Unique, one-of-a-kind gift

Only Sold Online at Amazon
🩶 All Orders Ship with Love from a Store in your Country (Check you are in the correct Amazon store in your Country.)
Regular price
$139.95 USD
Sale price
$44.95 USD
Unit price
per
Sale
Sold out
View full details
Life Is Better With Our Leather Wallets
 Protection…Strength...Courage...Success
Looking for a thoughtful and attractive gift for that special man in your life? Our Graphic Leather Wallet is the way to go! This handsome bifold wallet exterior is made of the highest quality genuine full grain cowhide. It's recognized for its amazing feel and appearance. Both durable and smooth, the wallet's warm brown color will take on a rich, vintage look, getting better with time and use. The unique design is vibrantly printed on the front and carefully shipped in a handsome black and white gift box - making this a gift to treasure for years to come!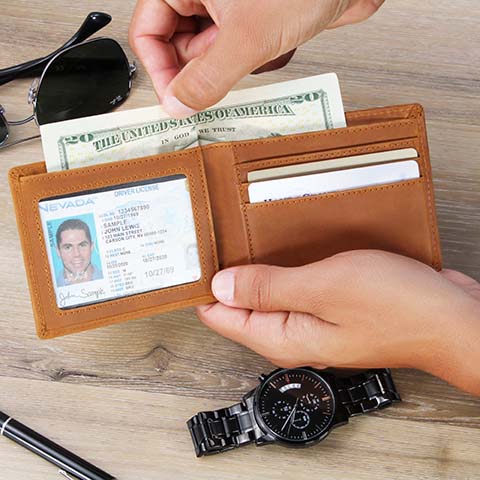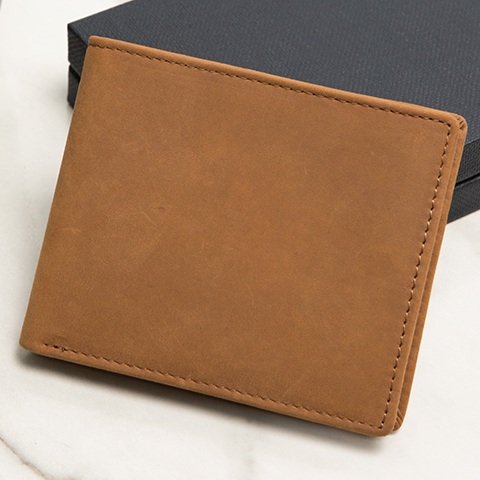 Your wallet will be custom made upon order and feature a professionally printed design. This present makes for a truly unique and sentimental gift that will be treasured for years!
Product specifications: 
Genuine full grain cowhide leather (brown)

Slot for bills, credit cards, clear window for drivers license

4" x 3.5" (20.32cm x 8.89cm) folded / 8" x 3.5" (10.16cm x 8.89cm) flat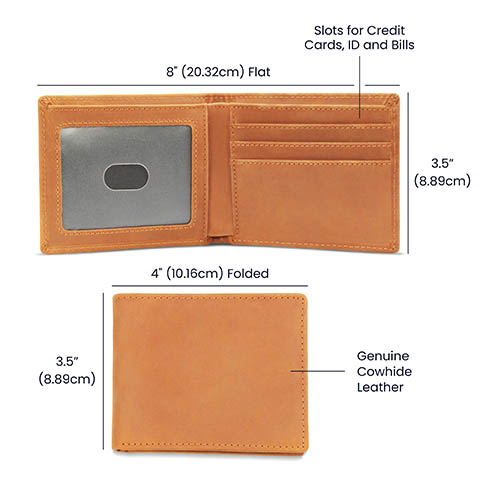 Each order is lovingly packaged and shipped with care!
These beautiful, professionally designed wallets are:
•Cruelty-Free: Vegan leather is made without using animal products, making it a compassionate choice for those who want to avoid contributing to animal exploitation and cruelty.
Environmental Sustainability: Vegan leather is often made from materials like polyurethane or plant-based alternatives, reducing the environmental impact associated with traditional leather production, which involves raising livestock.
Reduced Carbon Footprint: The production of vegan leather typically generates fewer greenhouse gas emissions compared to traditional leather production, contributing to a lower carbon footprint.
Water Conservation: Leather production, especially from animals, requires significant amounts of water for both the animals and the tanning process. Vegan leather manufacturing often involves less water consumption, contributing to water conservation efforts.
Versatility: Vegan leather can be manufactured in a variety of textures, colors, and styles, offering consumers a wide range of choices to suit their preferences without relying on animal products.
Durability: Many vegan leather materials are designed to be durable and long-lasting, providing a sustainable alternative to traditional leather without sacrificing quality.
Hypoallergenic: Vegan leather is generally less likely to cause allergic reactions compared to some traditional leathers that may contain allergenic components.
Innovation and Technology: The production of vegan leather encourages ongoing research and development into new and sustainable materials, fostering innovation in the fashion and manufacturing industries.
Easy Maintenance: Vegan leather often requires less maintenance than traditional leather. It can be easier to clean and may resist certain types of damage, contributing to a longer product lifespan.
Ethical Fashion Choice: Choosing a vegan leather wallet aligns with ethical and sustainable fashion choices, promoting a shift towards more responsible consumer behavior.
 Production takes 2-3 Business Days (Weekends Not Included)
We ship most products within 1-4 business days after production. After that, items typically arrive to customers within:
USA: 2-5 days (Excluding Sundays)
USA Priority: 1-2 days (Excluding Sundays) (Shopify Only)
Canada: 5-10 business days
UK, most of EU (Shipped from Amsterdam): 3-7 business days 
Australia, New Zealand: 8-20 business days
Rest of the World: 5-20 business days 
Our unique journals are designed to make a difference in the following areas:
From birthdays to baby showers, we have the perfect gift for every special moment in your life. Browse our selection for the perfect gift.
Discover the enchantment of spirit animals and the wonders of the animal kingdom. Let our products bring a touch of magic to your life.
Make a difference in the life of a special child with our heart-felt products. Our Mood Toolbox and Personal Growth Stories are designed for Parents, Practitioners and Teachers to inspire change.
Discover the power of Angels, Archangels, Angelic Realms, Gods, Goddesses and Ascended Masters as they guide you on your journey to manifest your dreams.
Customer Satisfaction Is Our Priority

Gifts Making A Difference

Touching hearts and changing the world