Customer Satisfaction Is Our Priority

Gifts Making A Difference

Touching hearts and changing the world
Unique, one-of-a-kind gift

Only Sold Online
Your vegan leather journal will be custom made upon order and feature a professionally printed design. This present makes for a truly unique and sentimental gift that will be treasured!
View full details
Life Is Better With Our Leather Journals
Conect with Kuan Yin with this beautiful journal
As an ascended master, Kuan Yin is believed to possess spiritual wisdom and the ability to guide individuals on their journey toward spiritual growth, compassion, and inner peace. Devotees and practitioners often look to her as a source of inspiration, guidance, and support in their pursuit of spiritual enlightenment and the cultivation of qualities such as mercy, kindness, and altruism.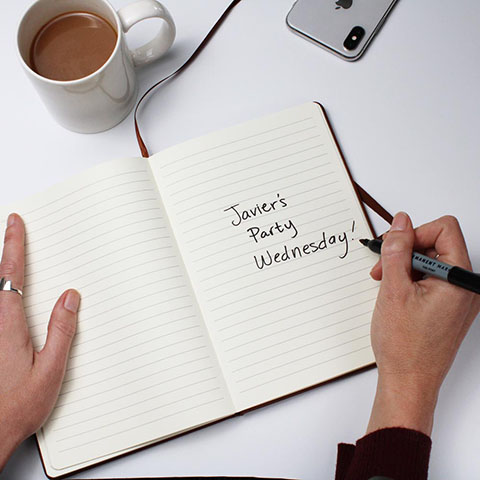 What better way to quiet your racing mind than with a clean slate? The Graphic Leather Journal is the perfect accessory for to connect with Kuan Yin. This vegan leather notebook allows you to write on the go thanks to its lightweight design. Plus, swapping between your important pages is easy thanks to the ribbon bookmark and elastic closure band. The unique front is professionally printed with vibrant colors - making your connection last longer.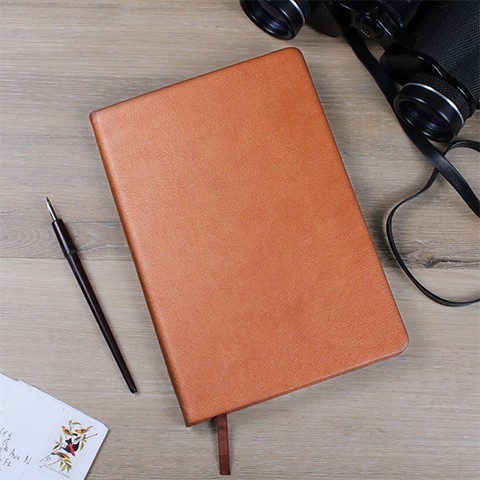 Your journal will be custom made upon order and feature a professionally printed design. This present makes for a truly unique and sentimental gift that will be treasured!
Product specifications: 
Vegan leather cover

W 5.8" x L 8.5" x ⅝" (14.73cm x 21.59cm x 1.6cm)
100 sheets / 200 lined pages
Brown elastic closure band
Ribbon bookmark
Weight: 11.33 ounces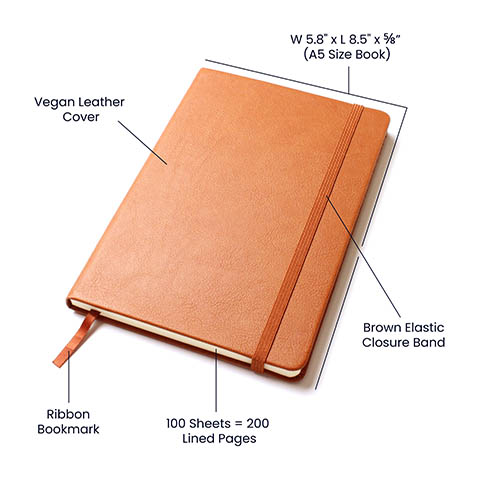 Each order is lovingly packaged and shipped with care!
These beautiful, professionally designed journals are the perfect place to:
• Record Your Inspired Ideas
• Journal and Write Notes
• Collage, sketch & draw
• Visualize
• Be inspired with quotes+ much more...
Discover various tips and strategies where your guides can assist in your life:
• Tips that make a difference
• Strategies for Growth Mindset & Goal Setting
• Manifesting Techniques
• Inspirational Quotes
Add a touch of class with our vegan leather based journals. Beautiful designs with the high quality feel of leather.
Environmental consciousness is important to us. As a manufacture-on-demand company, we produce units as they're ordered, which reduces excess production. We also maintain a commitment to recycling waste materials resulting from the printing process and from daily office operations and we will continue to review our practices to ensure we are doing our part to protect the environment.
 Production does not run on weekends:  2-3 Business Days
We ship most products within 1-4 business days after production. After that, items typically arrive to customers within:
USA: 2-5 days (Excluding Sundays)
USA Priority: 1-2 days (Excluding Sundays) (Shopify Only)
Canada: 5-10 business days
UK, most of EU (Shipped from Amsterdam): 3-7 business days 
Australia, New Zealand: 8-20 business days
Rest of the World: 5-20 business days 
Our unique journals are designed to make a difference in the following areas:
From birthdays to baby showers, we have the perfect gift for every special moment in your life. Browse our selection for the perfect gift.
Discover the enchantment of spirit animals and the wonders of the animal kingdom. Let our products bring a touch of magic to your life.
Make a difference in the life of a special child with our heart-felt products. Our Mood Toolbox and Personal Growth Stories are designed for Parents, Practitioners and Teachers to inspire change.
Discover the power of Angels, Archangels, Angelic Realms, Gods, Goddesses and Ascended Masters as they guide you on your journey to manifest your dreams.